We Help Active People in The Woodlands, TX Rebound From Injury and Resume the Activities, Hobbies, and Sports They Are Most Passionate About.
If you're in pain or injured in The Woodlands, hands-on manual physical therapy may be your best solution. Learn more about your options for getting relief below
Our expert Physical Therapy staff is now providing specialized online treatment sessions at an incredible discount. We want to make this option accessible for everyone hurting from this pandemic and help flatten the curve. Just because you're stuck at home doesn't mean you can't get great treatment for pain or injuries limiting you from the activities, hobbies, and sports you love to do. Give us a call today to see if a virtual Physical Therapy session is the right option for your pain.
Looking for the best solution for your pain or injury in The Woodlands area?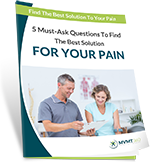 Here are the 5 most important questions to ask before receiving any treatment options

Whether you enjoy being active with a specific hobby or love to compete in a sport, it's often difficult to navigate injury. The internet has an overwhelming amount of information and it's extremely hard to understand what's wrong let alone how to fix it.
That's where MVMT 360 can help! Our mission is to provide exceptional care through one on one treatment with an expert Physical Therapist, targeted hands-on manual techniques, and a passion to not only resume your hobby or sport but improve overall performance in that activity.
Here at MVMT 360 we believe that optimizing movement patterns are the foundation of rehabilitation, improving performance, and ultimately preventing injury. That's why you won't be caught wasting time with ineffective treatment techniques, stranded doing exercises by yourself that you could easily be doing on your own, or feel like a product in a factory rather than a patient. You receive our full attention, expertise, and advice, which will lead to much better results, faster!
Move Better.Perform Better.Live Better.
I've always been an active person, with anything from yoga to training for half marathons. About four years ago I started struggling with pain behind my right shin while training for a half marathon. My pain got progressively worse as I increased my mileage. I tried everything from deep tissue massage to taking long periods of rest and eventually had to give up running all together. My husband did physical therapy with Brian for his lower back pain and had great results, so I was inspired to seek his expertise as well. He came to my house to assess the injury and within a few treatments I was back running again—pain free!
I'm a competitive person and have played sports my whole life. Eventually, I discovered Crossfit and was hooked. I loved doing time-bound workouts 4-5 times per week. However, as most things do, all of this activity over all those years finally caught up with me. During the middle of a workout my back went out. I could hardly move without pain. An MRI showed that the disc between my L5/S1 was herniated. The bulge would pinch the nerve that ran down my leg and massive pain ensued.
I just finished my therapy with Brian a couple of weeks ago and he's got me on my exercises with rubber band that I do daily now, not only to strengthen my rotator but strengthening my upper body. I'm in no pain I just cut down a 50 foot tree, one of six, I got to take out for our pool and I really feel good. I'm back to doing a low count of push-ups and I appreciate you!
WANT SOME HELP TO GET BETTER FASTER?