All Treatment sessions are one-one one with an expert Manual Physical Therapist, and are scheduled for either 1 hour or 30 minutes. The rate for treatment sessions and other services vary, so please call us at (832) 291-2267 to enquire about pricing. MVMT 360 Physical Therapy is a fee-for-service clinic that is not in-network with any insurances. Upon request, receipts can be provided that include the necessary codes to send self-claims to your insurance company.
Health insurance plans with high copays and high deductibles have actually made it cheaper to not use your insurance for services PT services.
Why is insurance not billed at MVMT 360 Physical Therapy?
Today's healthcare landscape has become complicated and often difficult to navigate. Healthcare reform has started to shift upfront costs to consumers, which means higher copays per visit and sky-high deductibles most people will never meet within the year. On the flip side of the equation, providers are continuing to see decreasing reimbursement from insurance companies and need to see higher patient volumes to stay afloat.
In this environment, insurance companies are forcing clinics to treat at least 2 patients per hour, utilize more modalities such as ultrasound or electrical stimulation, choose treatments that get the most reimbursement, and hire entry level PT technicians with no advanced degree or formal training to assist with treatment. This indirect influence on treatment plans at "innetwork" clinics is just something that we at MVMT 360 are unwilling to go along with.
Our clinicians are given the freedom to treat patients one-on one and provide highly effective manual therapy techniques to make immediate and lasting changes in patients pain and movement patterns. Because we get to spend so much time with our patients we typically only need to see them once a week rather than the 2-3x's a week plan typically prescribed at an "in-network clinic.
When you consider the time savings of fewer trips to the clinic and the value of resolving your pain quicker, the out-of-pocket expense at MVMT 360 Physical Therapy is a great deal.
What's hard to believe for most people is that, the out-of-pocket expense for our treatment sessions is often less than what a patient would pay at a clinic that accepts and bills their insurance provider.
How can I save money not using my insurance?
Most people don't understand how their insurance plans cover services such as PT. The growing trend among major insurance providers is zero coverage for PT visits or requiring copays over $50 per visit. If there is a medium-high "in-network" deductible to meet, you'll likely end up paying the full bill for PT treatment until that deductible is met. These sessions are often over $200 +, not one-on one high quality care, and prescribed at 2-3x's per week. Additionally, you won't actually get the bill until after you've been receiving treatment for a month or two.
If you've done the quick math it's an enormous bill to get hit with and not expect it. Oh and one more thing…some insurance plans hide how they apply services to the deductible in the fine print. So only a percentage of that $200+ per session cost might actually be applied to the deductible and often depends on the amount that they have agreed is reasonable for your PT sessions, which is far less than the "in-network" clinic actually charges.
These games are now becoming a staple for insurance providers in an effort to pay as little as possible while increasing profits. If you've read this far, I'm sure you're wondering what your coverage looks like. So here are a few must-ask questions for your insurance provider and "in network" PT clinic before you start treatment.
Important Questions To Ask your insurance provider
What percentage of the total PT bill will you be required to pay at an "in-network" clinic?
If you are paying 100% of the bill until your deductible is met ask the prospective PT clinic what the amount of the average bill sent to an insurance company will be? (Total amount not what the insurance company has agreed to pay
If you have met your deductible, ask how much your copays will be and how many times per week the average patient is asked to come in for treatment?
Can I get reimbursement for my out-of-pocket expenses on Physical Therapy services with MVMT 360?
This will largely depend on the insurance you have, but we have had many patients successfully submit claims to their insurance provider and receive some level of reimbursement.
One other consideration on submitting a claim is whether or not you have just one deductible or if you have both "in-network" and "out-of network" deductibles. Our clinic would be considered an "out-of network" option and would be applied to that deductible.
When submitting for reimbursement the first step would be contacting you insurance provider and inquire about "out-of network Physical Therapy" expenses sent in via self-claims. The amount of reimbursement or application towards your deductible is completely dependent on your insurance plan.
The current laws governing where a Medicare beneficiary can spend their healthcare dollars have generated a considerable amount of confusion when it comes to services such as Physical Therapy. As of right now MVMT 360 is not a participating Medicare provider and can only accept Medicare beneficiaries as patients if they do not want Medicare billed for any PT services.
The Medicare beneficiary must choose to do this independently of their own free will. He or she must understand fully that in order to receive treatment with us they must truly not want Medicare involved at all and ask up front that Medicare not be billed for any care received at MVMT 360 Physical Therapy.
With that said, if you are looking to use your Medicare benefits on Physical Therapy we cannot treat you. However, our staff will be more than happy to help you find a good Medicare provider in your area.
What can I expect from my visit?
Every one of our patients are treated as a unique individual. We address your whole body, not just the part that hurts or is injured. Our goal is to understand the root cause of the problem and how it's impacting the things you love to do. You'll be prescribed a specific treatment plan which is designed to address the problems responsible for your pain and symptoms and help you return to an active life as soon as possible.
Physical Therapy is not a "quick fix" and you should expect to put in some work, however many people do feel relief within their first visit. Most people experience a change or significant difference within a few treatment sessions of our target hands on approach. But our work doesn't stop once your pain and symptoms have subsided! The ultimate goal is to help you become stronger and more resilient to this ever happening again.
How long will each session be?
The initial evaluation will last for approximately 60 minutes. Follow up treatments can be booked at either 60 minutes or 30 minutes
Be sure to wear comfortable athletic clothing for your visits that allows our Physical Therapist to access any injured areas for treatment. When in doubt bring shorts and a T-Shirt to change into.
Where will treatment be held?
25127 Gosling Rd, Spring, TX 77389
M: 10:00 a.m – 7:00 p.m
T: 8:00 a.m. – 6:30 p.m
W: 8:00 a.m. – 6:30 p.m
Th: Closed
F: 8:00 a.m – 5:00 p.m
8582 Katy Fwy, Suite 110 Houston, TX 77024
M: Closed
T: Closed
W: Closed
Th: 7:00 a.m – 4:00 p.m
F: Closed
How many visits will I need?
It is impossible to predict the exact number of visits you will need as everyone's individual challenges are unique. Our typical patient is seen once per week, for about 4-6 visits. However, we can give a much more concrete prognosis after performing a comprehensive physical exam on day one. This is also why we offer 20 minute consultations for $20, so you can get a clear understanding of what's going on and how long it may take to resolve before you commit to becoming our patient.
Every patient is taught how to treat themselves at home using self-mobilization/soft tissue techniques, activity modifications, and corrective exercise. You will receive a personalized treatment program for treatment and long term prevention of your condition so you can stay fit, healthy, and mobile with out needing to turn to other options such as pain medication or surgeries.
Do I need a Physician referral to start PT treatment?
Recently, the state of Texas passed new legislation allowing Physical Therapists to evaluate patients without a referral and provide treatment for a limited number of days if the PT meets the following criteria:
1. In order to provide treatment without a script/referral to a patient for ten consecutive business days, the PT must possess a doctoral degree in physical therapy or have completed thirty continuing competence units in differential diagnosis. If a PT with a doctoral degree has completed a fellowship or residency, the number increases to 15 consecutive business days.
2. All patients without a referral must sign a disclosure from prior to treatment.
All Therapists at MVMT 360 Physical Therapy have completed a 3 year Orthopedic Manual Therapy Fellowship Program in addition to their Doctorate in Physical Therapy.
Referrals can come from a variety of sources:
MD
DO
Physician's Assistant
Advanced Nurse Practitioner
Dentist
Podiatrist
Chiropractor
If obtaining a PT referral is difficult, please let us know as soon as possible and we can suggest a variety of options for getting one quickly and easily
Looking for the best solution for your pain or injury in The Woodlands area?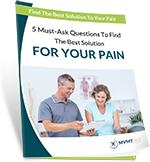 Here are the 5 most important questions to ask before receiving any treatment options
Click The Button Below To Schedule A FREE Phone Consultation With One Of Our Therapists
Or call (832) 291-2267 if you'd like to speak with someone right now. With just a short phone call, we will be able to get a good idea of what's causing your pain and explain the best options to get rid of it.