What's holding you back from the activities you love to do?
Movement-Based Therapy:
We specialize in optimizing how well you move and perform, not just your injury.
MVMT 360 Family:
Getting to know each client individually is just as important to us as achieving their specific goals in rehab and performance. All of our services are designed with this in mind and are either 1-on-1 or in small groups.
YOU ARE NOT ALONE
For the beginning of my career I worked for and eventually managed an insurance based orthopedic sports medicine clinic for a large outpatient physical therapy company. Due to decreasing reimbursement rates from insurance providers for treatment, physical therapy clinics have been forced to see more patient per day to make up the difference. As Physical Therapists I was juggling multiple patients at the same time each hour and seeing between 15-20 day. I was also seeing a trend of treatment patterns that were heavily influenced by what insurance companies were willing to pay more for regardless of the clients diagnosis. This model to me was broken and just didn't allow me to provide quality patient care. After 4 or 5 years in this environment I decided it was time for a change.
This was the catalyst for me starting my own practice and moving away from the traditional insurance based model of patient care. I wanted to be able to spend one on one time with all of my clients and get the outcomes I knew were possible with focused, individualized treatment plans. The result was MVMT 360, a fee for service physical therapy practice that wouldn't be limited or influenced by big insurance companies on how treatment is delivered. MVMT stands for MoVeMenT and 360 represents degrees of MVMT. This idea of maximizing and improving how our body moves in order to prevent compensation patterns that might limit our performance or lead to injury truly represents our core philosophy. We optimize movement patterns to not only recover from injury but prevent injury and improve performance in any activity or sport. The human body will always take the path of least resistance to accomplish a task. Therefor weakness, instability, or mobility issues in the upper body can impact the lower body and vice versa if we ask the body to perform complex movements like the golf swing or throwing a baseball or sprinting.
I'm extremely active and love to exercise. I usually run for cardio and perform light workouts in the gym but a few months ago I randomly decided to jump into some heavy lifting. I think you can guess this was a bad idea and led to pain in my hip. As pain started to progress over the following week I had to stop running and was even having trouble walking.
My physician referred me to Brian with MVMT 360 Physical Therapy and I was so happy he did! Brian spent an entire hour with me asking questions, understanding my goals, performing an in depth evaluation, explaining my injury, and then providing hands on treatment.
After only a few sessions with him I'm now walking again pain-free and working on corrective exercises to get me back into running. This experience has been great and I'd recommend MVMT 360 Physical Therapy to anyone! Thanks, Brian!
-Nicole H
I was a very athletic guy when suddenly I couldn't do anything due to a muscle imbalance I had developed over time, to put it briefly. My back and my knee hurt so badly that everything I did on a daily basis put me in excruciating pain. I saw Doctors who wanted to slice up my knee, Chiropractors of all kinds that weren't getting the job done, acupuncturists, yoga instructors, and massage therapists over the course of 3 1/2 years. A friend of mine recommended Brian. I was skeptical because of the amount of money I had already put into so many other methods that had no success. I was so happy that Brian made me eat my words! The improvement has been incredible and its the best I've felt in 4 years. Soon I will be back to 100% and I'm not in pain all day anymore, which improves pretty much every aspect of life as everyone knows. It's nice not to have to remember the exercises because there are videos of all of them that are entered into the rehab program he sends out. I shut my mouth, I listened, and I put in the work the way he showed me. Even though it's part of the job, I can't help but feel like I owe him so much more for getting me back on track.
– Brandon F
We are located in a 45,000 sq ft facility that offers high-level youth sports and performance training in baseball, softball, basketball, football, soccer, and more. There are 6 batting cages, a full-length basketball court, a covered turf field, and a full-weight room. MVMT 360's treatment room is located in the back corner of the facility for privacy with PT patient care. We have access to all these wonderful amenities the Sportsplex has to offer and can utilize the full scope of this facility for all physical therapy rehab, performance training, and injury prevention programming.
Who We Serve
We help athletes, weekend warriors, and golfers make lasting changes in their movement quality.
Meet Brian Morris owner and head therapist with MVMT 360 Physical Therapy.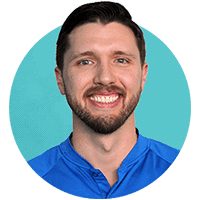 I grew up locally in The Woodlands, TX and attended the Woodlands High School before going to Texas A&M for Undergraduate Degree. I played both Basketball and Golf in high school and considered playing basketball in college but got derailed due to knee injuries.
My wife Libby also grew up locally and we have 3 amazing boys, Theo (7), Jude (5), and River (2) that keep us busy!
As a former athlete and current weekend warrior, I can relate to my client's pursuit of pain-free movement, injury prevention strategies, and improved performance. I've also been on the wrong side of sports injuries through the years and have had to go through the rehabilitation process with the goal of returning to sport/competition. This personal experience is invaluable to me as a PT and
H a performance specialist because I have been where all of my clients are and have had to work hard to get back into the activities I love doing.
As a PT it was extremely important for me to specialize in sports and orthopedics, which is why I joined a 3-year fellowship program in manual therapy immediately after graduating from PT school. This program was a game changer and provided the skill set to truly make immediate changes in people move through a combination of hands-on treatment techniques paired with specific corrective exercise programs.
Move Better, Perform Better, Live Better
Looking beyond just treatment philosophy, it is well known that there is more to pain and injury than just the musculoskeletal components and understanding someones fears, joys, personal goals, and levels of stress are just as important.
"I strive to get to know the people I work with, not just they're injuries." When he is not working, Brian spends the majority of his free time with his wife, Libby, and they're young sons, Theodore and Jude. He also enjoys golfing on the weekends.
"Right now, The Houston Zoo is a big hit in our house. So if it's a Saturday or Sunday, there is a high probability we'll be there looking at the giraffes, bears, tigers, and lions. My wife and I both have big families so we also enjoy spending as much time with them as we can."
Click The Button Below To Schedule A FREE Phone Consultation With One Of Our Therapists
Or call (832) 291-2267 if you'd like to speak with someone right now. With just a short phone
call, we will be able to get a good idea of what's causing your pain and explain the best options
to get rid of it.
Not Ready To Chat?
No problem…but at least get some free information containing 4 keys to help you stay active and decrease pain after an injury.
With all the information out there it's easy to get lost and confused about how to get your recovery process started. Click the button below, enter a few bits of information and get an action plan designed specifically to help you get back to all the things you love to do!