Your free phone consultation is a 10-15 minute conversation with a Doctor of Physical Therapy in which we start the process of determining the underlying causes of your pain or injury. At the end of the call we will provide insight into potential treatment and the best course of action to meet your goals.
In order for us to make the phone consultation as productive as possible, please fill out this brief form and we will reach out soon to schedule your consultation.
Looking for the best solution for your pain or injury in The Woodlands area?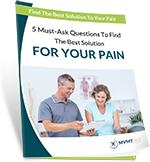 Here are the 5 most important questions to ask before receiving any treatment options