We will determine the primary cause of your pain/injury, design a plan to fix it, and introduce you to our concierge service to ensure we are the right fit for your needs.
It's the perfect choice for anyone in pain, stiffness, or functional limitations due to injury who would like to know what is causing the problem or whether physical therapy can help.
Looking for the best solution for your pain or injury in The Woodlands area?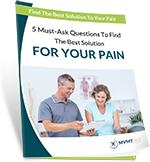 Here are the 5 most important questions to ask before receiving any treatment options